Hope for the River Narmada
Rivers in India hold a special place in the hearts of its people as a symbol of spirituality, culture and life. Their conservation is critical.
Standing on the banks of the Narmada at our project site in Hoshangabad district in Madhya Pradesh, Project Associate Ashok Biswal and Ecological Economist Dhaval Negandhi take in the breath-taking view of the river meandering its way through thick forests into the far horizon. With clear blue skies above and scenic beauty all around, they are reminded of what's at stake to conserve as they gear up for an ambitious and exciting journey of restoring this iconic and sacred river.
Narmada flows more than 1,000 km of its total 1,300-km length through a densely forested basin in Madhya Pradesh before draining into the Arabian Sea. It is the lifeline of the state, providing food, water and livelihood to more than 25 million people and habitat to a variety of plant and wildlife species. Like many of India's rivers, the Narmada too is struggling against the pressures of development such as nutrient run-off from agriculture, degradation of its riparian zones, over-extraction of water, construction of dams and pollution from sewage discharge and solid waste dumping.
Recognising the importance of the river for Madhya Pradesh's economic development and environment, the state Government has launched the Namami Devi Narmade programme—a people's movement to increase awareness about river conservation, plant trees along the banks and address pollution sources through public awareness and participation.
River Narmada at a Glance
Length: 1,300 km, 6th longest river in India.
River Basin: 92,672 sq km
Biodiversity: 1/3rd of Narmada's basin is covered in forests, which support more than 11 Protected Areas including the famous Kanha Tiger Reserve and Panchmarhi Biosphere Reserve
Flora: More than 4,000 species
Birds: More than 276 species
Mammals: More than 76 species
Fish: More than 118 species
Guided by science for conservation
"The Madhya Pradesh government has shown exemplary leadership in river conservation. Our aim is to support the government by providing scientific solutions to improve the impact of conservation efforts," says Dhaval Negandhi. "A key focus of the government is on planting trees along the riverbanks to improve natural habitat and reduce soil erosion into the river. But the saplings' survival rate is only one in six. We have conducted a scientific analysis of the entire Narmada basin (92,672 sq km) and identified locations where plantation drives would have the maximum conservation benefit to the river and improve survival rate. We have also identified the most appropriate native species for plantation which would benefit the people as well as nature."
This is the first such study conducted at a basin scale and classifies sites along the Narmada and its tributaries based on the impact of land use, population and infrastructure development. Subsequently, it identifies sites that are degraded as well as the most suitable for restoration, thereby allowing the government and other stakeholders to deploy resources efficiently by prioritising degraded areas for restoration. This massive study was conducted in partnership with the Narmadapuram Division and Environmental Planning and Coordination Organisation of the Madhya Pradesh Government.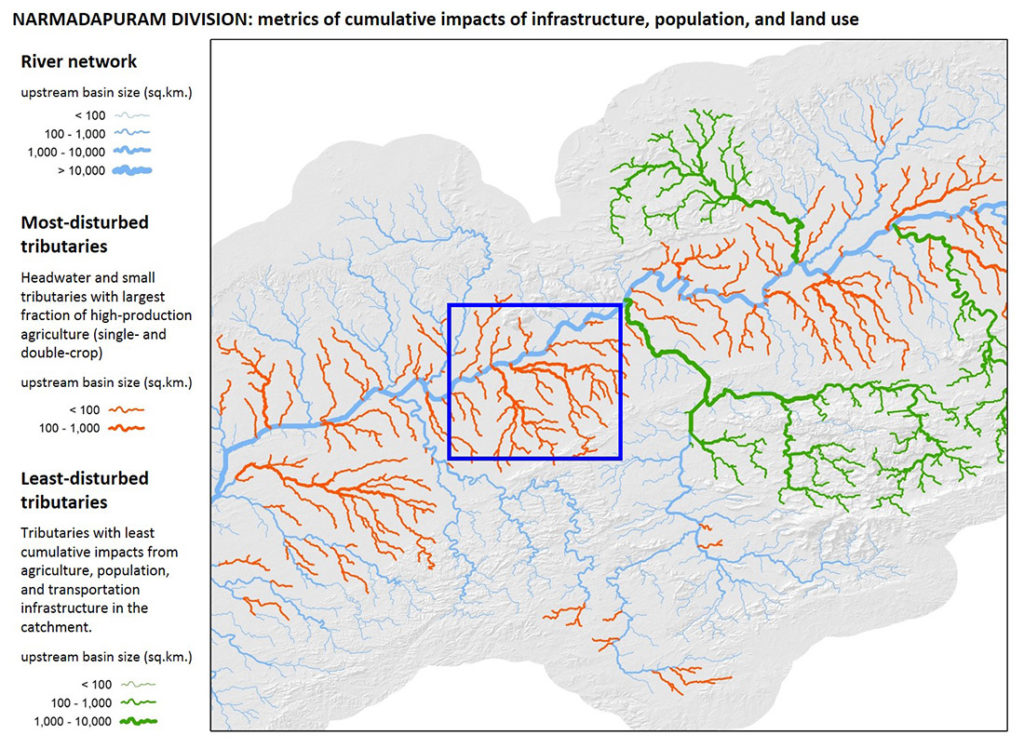 Ashok Biswal, who is overseeing the project on-ground, adds, "We also documented native plants across the Narmadapuram Division and identified more than 200 species of trees, herbs, shrubs, climbers and grasses that are best suited for plantation along the Narmada. This has been published as a book that also documents how each plant benefits the people, biodiversity and river hydrology; along with information on where it should be planted in a riparian zone."
This book, "Common Plants of the Riparian Zones of River Narmada," is a first of its kind publication that can be used by any stakeholder interested in scientifically undertaking conservation efforts along the Narmada's riparian zones. It has been endorsed by the Chief Minister of Madhya Pradesh Shri Shivraj Singh Chouhan, who contributed a message for the people in the book as well as released it at an event in Hoshangabad.
"Our endeavour will be to disseminate this book to all district governments of Madhya Pradesh through which the Narmada flows, regional NGOs, local communities, and businesses and corporates to encourage scientific plantation activities for maximum conservation impact," says Ashok.
Proving success on the ground
Community members fencing off a portion of the riverbank to prepare for sapling plantation during the monsoon.
Scientific research alone cannot lead to conservation unless its applicability is proved on the ground. Therefore, we have launched a pilot initiative to restore a 5-km stretch along Narmada's riparian zone in Hoshangabad district in partnership with a regional NGO. The effort is guided by our own scientific research and seeks to improve water quality, enhance natural habitat for biodiversity and generate nutritional benefits and jobs for local communities. By demonstrating success, we aim to encourage other stakeholders, including the Madhya Pradesh Government, to replicate this model in other parts of the basin.
This will also raise awareness about the importance of riparian zones, which are generally neglected. Their conservation can provide multiple benefits such as controlling floods, reducing soil erosion, preventing and treating pollution, improving water flows in the river, sequestering carbon and mitigating climate change, creating a natural habitat for wildlife, providing livelihood to local communities and much more.
The first phase of the on-ground intervention has begun. Several sites have been selected, species for plantations have been identified and procured from the Forest Department nursery, and a piece of land has been fenced to prepare for plantation in the upcoming monsoon season in July. Local communities living around the area are being regularly engaged on the importance of this project as their involvement is crucial for the maintenance and upkeep of the plantations.
"This is a historic moment in the journey of The Nature Conservancy in India. After a lot of hard work, scientific research and engagement with various stakeholders, it is very satisfying to see our efforts bearing fruit as our project takes root on the ground," says Dhaval, ready to deliver conservation results in Hoshangabad and take them to scale across the Narmada.