Can science-backed and nature-based restoration solutions and collaborations restore India's River Narmada to health? Is there a way to improve the life and livelihoods of the approximately 50 million people dependent on River Narmada while also protecting nature?  
We at The Nature Conservancy (TNC) strongly believe that the answers to these questions are a big 'YES'. To this extent, TNC, the Government of Madhya Pradesh and its Jan Abhiyan Parishad, along with the local community members, are collaborating to restore the severely threatened riparian (riverside) areas of River Narmada in Hoshangabad district of Madhya Pradesh. 

River Narmada fast facts
India's fifth longest river flowing westwards through the Vindya and Satpura mountain range of Central Indian Highlands for more than 1,312 kilometres. 

The forest-fed Narmada is the most important source of water for drinking, irrigation and hydropower in Madhya Pradesh and Gujarat states, and provides food, water, and livelihoods to 50 million people. 

A third of Narmada's basin is covered in forests, which support more than 11 Protected Areas including the famous Kanha Tiger Reserve and Panchmarhi Biosphere Reserve.

Biodiversity - 4,000+ species of plants, 276+ bird species, 76+ mammal species and 118+ fish species.

The 92,672 km2 Narmada River basin is also home to 17% of the global wild tiger population and many other endemic species of critical importance. 
The poor health of River Narmada  
Unfortunately, the iconic river is threatened by degradation of the riparian habitat that is essential to its health. Human-induced pressures and climate change have rapidly degraded the River Narmada basin. Pressures include catchment and riparian degradation, over-extraction of water, sand mining, over grazing by livestock, construction of dams, flooding, nutrient run-off from agriculture, industrial pollution, sewage discharge and solid waste dumping. This results in water and soil contamination, soil erosion and siltation.  
Degraded and polluted River Narmada
Riparian areas are vital to regulate the river's health as they arrest soil erosion, provide flood protection, filter sediments and pollutants, and provide home to biodiversity. Riparian areas also provide resources and are an important means to sustain livelihoods for community members. The riverbanks serve as a refuge for pilgrims who stop for food, fuelwood, rest and meditation. These pilgrims perform a sacred circumambulation of the Narmada River starting from Amarkantak, Madhya Pradesh to Bharuch, Gujarat and back to attain purity and spirituality. Many believe that a mere glimpse of the Narmada delivers salvation.  
Recognising the importance of the river for Madhya Pradesh's economic development and environment, the state Government has launched the Narmada Seva Mission. The mission focuses on revegetating the river's riparian and catchment areas, improving sanitation, reducing soil erosion, adopting pollution control measures and promoting sustainable agricultural practices. 
Conservation guided by science  
Echoing and furthering the government's mission, TNC India conducted a scientific analysis of the entire river basin (92,672 km2) and identified locations where effort would create the maximum conservation benefits. This is the first such study conducted at a basin-wide scale and classified sites along the Narmada and its tributaries based on the impact of land use, population and infrastructure development. Subsequently, it identified sites that are degraded as well as the most suitable for restoration, thereby allowing the government and other stakeholders to deploy resources efficiently by prioritising degraded areas for restoration. 
We also published a book on riparian flora, which covers more than 200 native species of trees, herbs, shrubs, climbers and grasses that are best suited for revegetating Narmada's riparian areas, and provide benefits to local people, biodiversity and river hydrology. 

Endorsed by the Chief Minister of Madhya Pradesh – Shri Shivraj Singh Chouhan – the book 'Common Plants of the Riparian Zones of River Narmada' is available for the community's use. 
From paper to practice 
For scientific research to lead to conservation action it needs to be proven in practice in the field.  Therefore, in 2017 we launched a pilot initiative to restore 20 hectares of riparian area in Hoshangabad district with local community members, regional NGOs and academic institutions. Our efforts seek to improve and enhance the natural habitat for biodiversity and generate nutritional benefits and jobs for local communities.  
The local communities have been involved in tree planting and other riparian vegetation drives, maintenance of the plantations, removing invasive plants and partnering with local herders to foster sustainable grazing practices. We are building the capacity of restoration champions from the communities to keep up community-based restoration.  
Involving and training the community
In the course of our work, we have also engaged with several government departments and civil society organisations which include District Administrations of Harda and Hoshangabad, Block Panchayats, Line departments (Forest, Rural, Revenue, Horticulture), Jan Abhiyan Parishad and others. 
Such pilots are taking us closer to our larger goal of utilizing science to restore 250 hectares of riparian area along River Narmada in Hoshangabad and Harda districts of Madhya Pradesh to become a sustainable habitat rich in ecological, livelihoods and socio-cultural benefits.  
River Narmada's beautiful biodiversity
The road ahead 
Over time our project will:
Develop best practices guidelines for riparian restoration that inform policy.

Provide a replicable and scalable science-based restoration model to governments locally.

Build capacity of restoration champions from within the communities to ensure sustainability.

Prioritize leveraging public funds to drive riparian restoration work. 
With continued scientific restoration efforts aimed at improving environmental and social values of the lands in this area along with our partners, enhanced biodiversity, water, ecosystem, and livelihood benefits are only a few gifts these revived riparian forests will give for generations to come. 
Download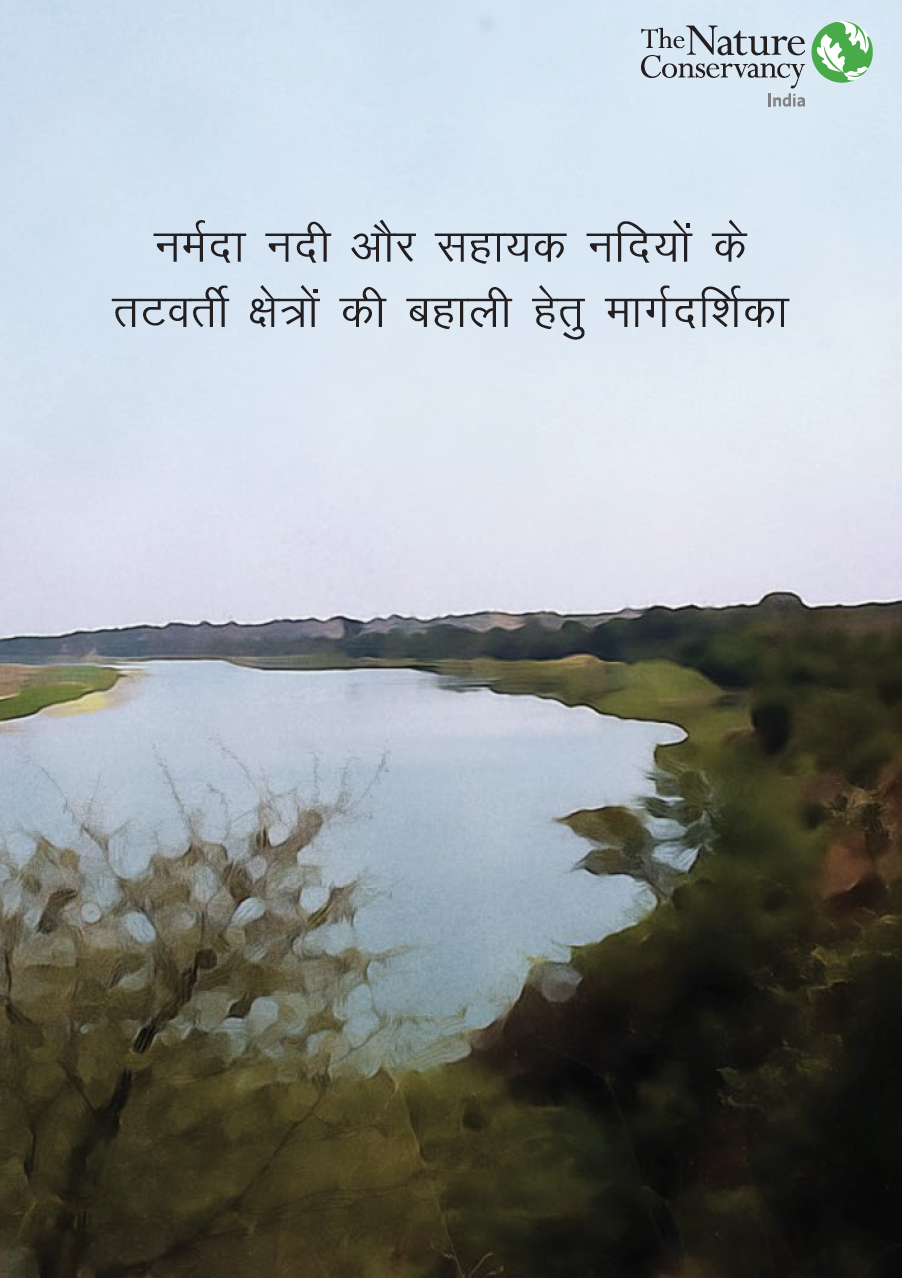 We express our sincerest gratitude to all our donors, partner organisations, advisors, and supporters for their continued support and generous donation towards this project. 

Our donor(s):